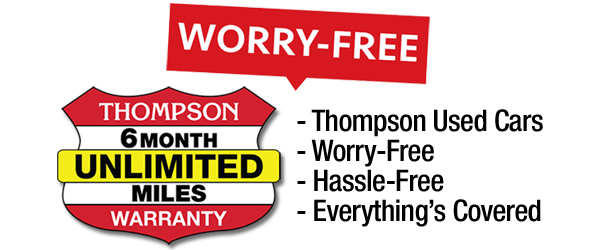 With Thompson's 
6 Month/Unlimited Miles warranty, you'll have 
peace of mind 
knowing that you've selected a quality pre-owned vehicle 
and
a comprehensive warranty. 
This warranty is effective for a period of 6 months after the delivery date, 
and no matter how many miles you drive, you're covered.
Best of all? There is NO DEDUCTIBLE for any covered repair!
Parts, labor, and towing associated with covered repairs 
are also included in this Thompson-exclusive plan.
It's that simple.
IT'S COVERED.

Even the best drivers can face hazardous road conditions. At Thompson, we want to make your driving experience as worry-free as possible.
If a covered part fails and your vehicle is disabled, Thompson will pay for towing, available 24/7. (Prior authorization must be obtained.) We won't let your busy schedule come to a halt just because of an accident. As needed, we'll also provide you with a complimentary loaner vehicle.
If for some reason you decide your pre-owned vehicle isn't what you've been looking for, Thompson also offers a hassle-free 48-hour return policy with your money back.
---

Engine: All internally lubricated parts, cylinder head, cylinder head gasket, cylinder head valves, engine block, timing chains, chain gears and tensioners, timing belts, timing cover, flywheel, flexplate, crank pulley, oil pump, exhaust manifold, intake manifold, engine mounts, oil pan
Manual Transmission-Transfer Case Components: All internally lubricated parts, transmission mounts, clutch master cylinder, clutch release cylinders, clutch disc and pressure plate, throwout bearing, pilot bearing, transmission cooler, cooler lines, seals, gaskets
Automatic Transmission-Transfer Case Components: All internally lubricated parts, torque converter, solenoids, transmission mounts, transmission cooler, transmission line, seals, gaskets
Axle Assembly Components (Front, Rear, 4-Wheel, and All Wheel Drive): All internally lubricated parts, propeller shaft, universal joints, constant velocity joints, boots, axles, center support bearing
Suspension Components (Front and Rear): struts, shock absorbers, upper ball joints, lower ball joints, coil springs, and leaf springs
Steering Components: steering rack, power steering, pump and hoses, idler arm, pitman arm, steering column shaft, steering column coupling, tie rod, relay rod
ABS Components: actuator, modulators, pumps, solenoids, wheel speed sensors
Brake Components: master cylinder, brake booster, disc brake calipers, wheel cylinders, pads, shoes, linings, rotors, drums, hoses, proportioning valve, brake hydraulic tubing
Fuel System: fuel pump, fuel injectors, fuel sensors, fuel injection computer, fuel tank, fuel lines, hoses, throttle body
Cooling System: radiator, water pump, heater core, fan clutch, thermostat, hoses, belts
Air Conditioning: expansion valve, compressor, condenser, evaporator, receiver dryer, hoses, lines and refrigerant
Electrical: starter, alternator, seat belt computer, sunroof computer, automatic transmission computer, E.F.I. computer, battery, bulbs, sealed beams, relays, switches, motors, modules, gauges, sending units
Exhaust: muffler, catalytic converter, all pipes, hangers, gaskets
Miscellaneous: wipers, control cables, water leaks, glass, factory audio/video/navigation equipment, antennas
---
CUSTOMER RESPONSIBILITIES UNDER WARRANTY
Routine maintenance as is required per the manufacturer of the vehicle
Wear and tear (any repairs or damage that may arise out of operation of the vehicle subsequent to its purchase)
This complete plan is subject to cancellation in the event of the following: abuse, improper maintenance, misuse, accident, competitive contests, modifications, off-road or illegal use, negligence in operation, failure to comply with "Customer Responsibilities," or an altered speedometer.
HOW TO SERVICE YOUR VEHICLE
Call us at 1-800-THOMPSON, or stop by at any of the Thompson family of dealerships
Thompson assumes 100% of the cost (parts and labor) of all of the covered repairs. All repairs covered by the agreement must be performed at a Thompson facility, or in the event of a distant breakdown, must be authorized by Thompson
Thompson may, at its sole discretion, elect to accept return of the vehicle and provide you with a refund. We reserve the right to install parts other than the original manufacturer parts.
In the unlikely event that you feel our response to a warranty service request is not satisfactory, Thompson offers you an opportunity to resolve your complaint through an informal dispute-handling organization.
*The warranty plan is limited to the express terms contained in this agreement and is in lieu of all other guarantees, warranties, obligations or liabilities, expressed or implied, including, but not by way of limitation, any warranty of merchant-ability or fitness of the vehicle for any particular purpose. Thompson assumes no other liability whatsoever, whether direct or indirect or consequential damages, or in any other way.